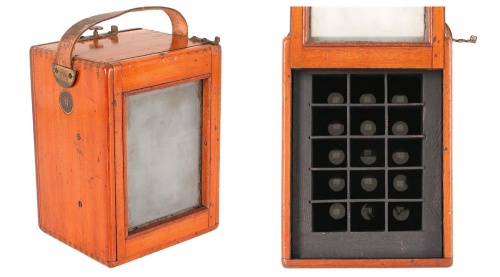 The Royal Mail Stamp Camera was quite small - not much bigger than the plateholder.

A permanently mounted septum created fifteen "compartments" for images.

Multiplying cameras were created as a cost-effective way to duplicate images. The Butcher Royal Mail Stamp Camera represents the simplest type of multiplying camera. It's nothing more than a beautifully polished, mahogany box with fifteen lenses, an internal septum to separate the images, and spring mounted metal plate shutter.

The novelty of the Royal Mail Stamp Camera is the capability of producing fifteen images on small 3-1/4" x 4-1/4" dry plates or film. The resulting 3/4" x 7/8" photographs were much smaller than Carte de Visites, "Bon Tons" and "Gems" - about the size of postage stamps (hence the name).

When first introduced in 1907, Butcher advertised the camera as, "intended for making fifteen portrait or views simultaneously on quarter plate, the results being "postage stamp" size. This dispels the commonly accepted belief that Butcher's camera was only made for copying other photographs.

Over the years, the Royal Mail Stamp Camera body was redesigned to accept different front panels with lenses formulated to copy Carte de Visite or Cabinet sized portraits. Although the exact date of the body modification is unknown, advertisements from 1913 and 1914 describe the interchangeable fronts.

Early outfits included perforated printing-out-paper for postage stamp sized images. Later versions were improved for pictures that could be "finished to resemble a sheet of stamps, with perforations and gummed backs."

Copyright ©2005 by Rob Niederman - ALL RIGHTS RESERVED

Royal Mail Stamp Camera, 1907-15
Butcher (W. Butcher & Sons), London, England