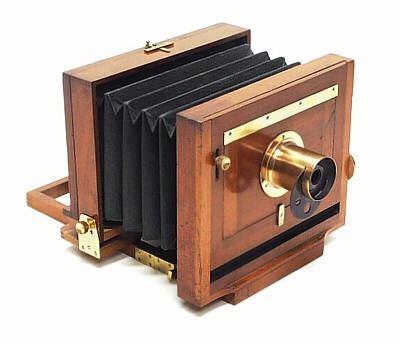 Copyright ©1999 by Rob Niederman - ALL RIGHTS RESERVED

The Scovill Waterbury View is a classic representation of the American tailboard pattern.

This example (s/n 513) is a 5 x 8 inch format model constructed of mahogany rather than the better known golden oak finish. It was also notched by the factory to accept an inner septum for stereo work.

The camera sold for $16.50 in 1892, or about $313 in year 2000 dollars.

This particular camera was included in researching cameras made by Franklin Putnam. A comparison with the Marvel Camera can be seen on the Putnam Marvel webpage.

Waterbury View Camera, c.1888
Scovill Manufacturing Company, NY.