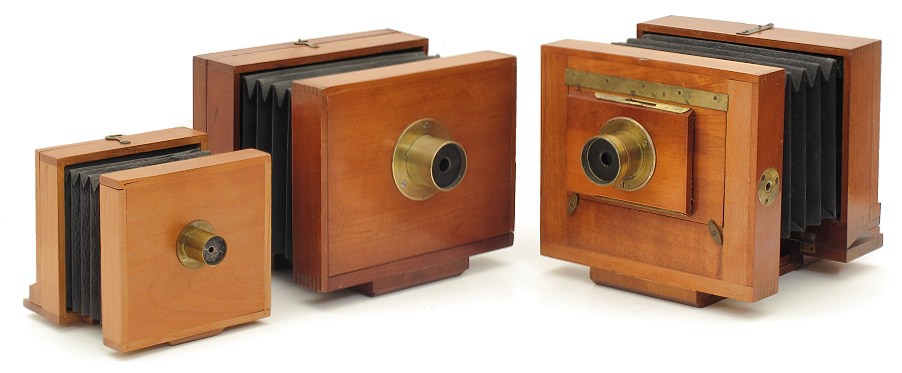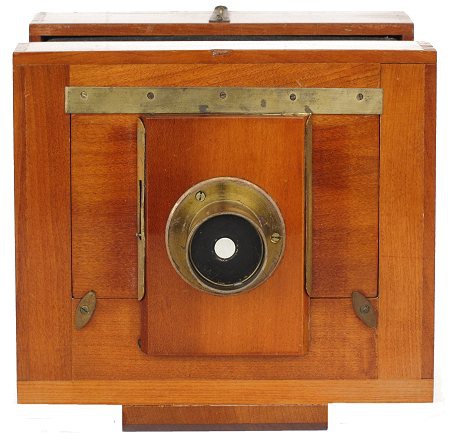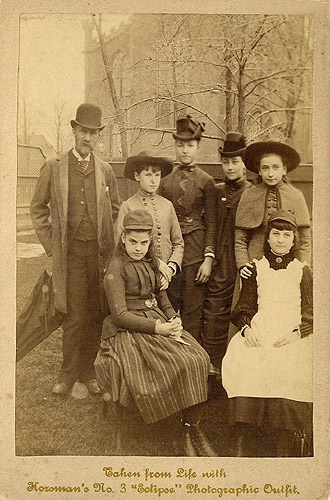 Not all cameras were made for serious amateurs and professionals. Starting in the late 1880s, makers recognized an opportunity to sell cameras to beginners and students.

These cameras were quite simple, bordering on primitive. Where they lacked features and refined construction, these inexpensive cameras were sold in complete outfits.

E.I. Horsman was one of several American camera makers that offered entry level field view cameras. In addition to cameras, Horsman also sold lawn tennis equipment and bicycles.

In addition to a simple box-plate camera, E.I. Horsman offered two entry level field view cameras. The No.2 Eclipse (c.1888 - 1900), the earlier of the two models, is a small 1/4-plate (3-1/4 x 4-1/4 inch) camera. A larger No.3 Eclipse in the 4-1/4 x 6-1/2 inch format was made in the 1890s.

A more sophisticated No.33 was also offered. While it included the usual rear tilting standard and interchangeable lens board; a different approach to shifting the lens was employed. An add-on lens board could be rotated 360 degrees and shifted freely. Patented by Henry W. Hales, the concept was novel and not adopted by other builders. And even this feature must not have been popular because the No.33 is considered quite rare in that I've only seen one other [incomplete] example.

Horsman Eclipse Family of Field Cameras (left to right): No.2, No.3 and No.33

Copyright ©2007 - 2011 by Rob Niederman - ALL RIGHTS RESERVED

Eclipse Cameras, c.1888 - 1900
E.I. Horsman Company, NY.

Although similar to the more common Scovill Waterbury View cameras, the two Horsman cameras shown on this page do not have any movements and include a simple brass barreled meniscus lens which use washer style waterhouse stops. Owing to its extremely cheap construction, many collectors speculate that the No.2 Eclipse was made for students. The bellows are a fragile paper-like leatherette and the washer inserts made of cardboard.

Complete packages were often advertised as amateur outfits. In 1897, Sears Roebuck & Company advertised both No.2 and No.3 outfits complete with double plate-holders, folding tripod, carrying case, and printing frame sold for $4.50 ($92 in year 2000 dollars) and $9 ($185 in year 2000 dollars).

Incredibly inexpensive workmanship targeting students and beginners practically guaranteed that few of these cameras would be in good condition, let alone survive.

Front view of No.33 showing the lens board rotated.

Advertising CdV for the No.3 Eclipse
Image courtesy of Ake Borgstrom