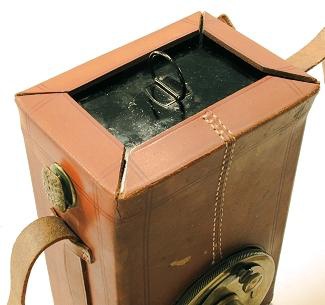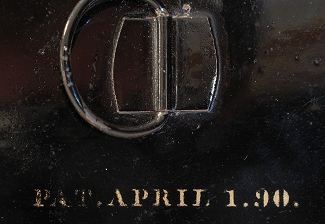 Copyright ©2009 by Rob Niederman - ALL RIGHTS RESERVED

Detective cameras are all the rage
- at least according to a c.1890
Youth's Companion
advertisement by Perry Mason & Company. Best known for its small, metal Harvard and Phoenix Dollar cameras, the company apparently tried - albeit unsuccessfully - to extend its inexpensive camera line to include a detective style camera.

At a time when snapshot photography was growing more popular each day, the Argus 12-Shot Repeating Camera was positioned as an alternative to expensive cameras. Its small size also made it attractive for photographers to "stroll over hill and dale."

A unique and elegantly straightforward design without elaborate hardware to change plates kept the price to an inexpensive $7.50. Inside the russet leather case was nothing more than a blackened tin body with vertical grooves for plates and a hole at the bottom for a large, threaded brass tube which housed a lens and simple shutter.

The vertical magazine, able to store twelve 3¼ x 4¼ plates, was advertised as a "repeating" feature to distinguish it from competitors. The upper portion of the body served as the "magazine" from which tin-sheathed glass plates would drop down into the lens field of view.

Before loading the camera, the brass tube was fully screwed into the body to prevent the sheaths from falling into the lower half of the camera. Next, the leather case was opened, tin top removed, and plates dropped into each of the grooves.

The "repeating" feature operated by slowly unscrewing the entire tube (including lens and shutter). With each single rotation, one plate would drop. The process was repeated until twelve, 3" diameter pictures were made. To ensure a proper focus, the tube length was made equal to the lens focal length.

Argus 12-Shot Repeating Camera, c.1890
Perry Mason & Company. Boston, Mass

An Argus by any other name.
As many collectors will acknowledge, "Argus" conjures up memories of a cheap family of cameras made from the 1930s through the 1960s. Nevertheless in the context of an 1890s "repeating" camera advertised to "snatch a view of a run-away horse, a flying express train, a great yacht race, or a pretty face", "Argus" - Latin, from Greek Argos meaning an alert, watchful person - is a surprisingly appropriate name.

Yet despite its symbolic name and low price, Perry Mason & Company probably couldn't overcome its image of selling novel cameras at a time when George Eastman's Kodak rollfilm cameras were redefining simplicity.

The Argus 12-Shot Repeating Camera shown in its russet leather case.

Left.
Opening the top of the russet case reveals a removable tin cover to load glass plates.

Above.
The date of April 1, 1890 patent date in gold letters adorns the removable tin cover.

Right.
The top leather lid is beautifully embossed with an American eagle.